DECORATING WITH BLACK TO CREATE A CHIC, DRAMATIC SPACE
Mar 23, 2018
When you're designing an interior space, the thought of using black can be intimidating. Black is dark, mysterious, and when you're not careful, it can take over the space and make it feel like a tiny, cramped cave. This doesn't mean you can't use black in your design – you can, and if you do it right, you can create a room that demands attention in a chic, powerful way. If you're curious about using black in your home, talk about your ideas with an interior designer in Philadelphia to start working on your plan.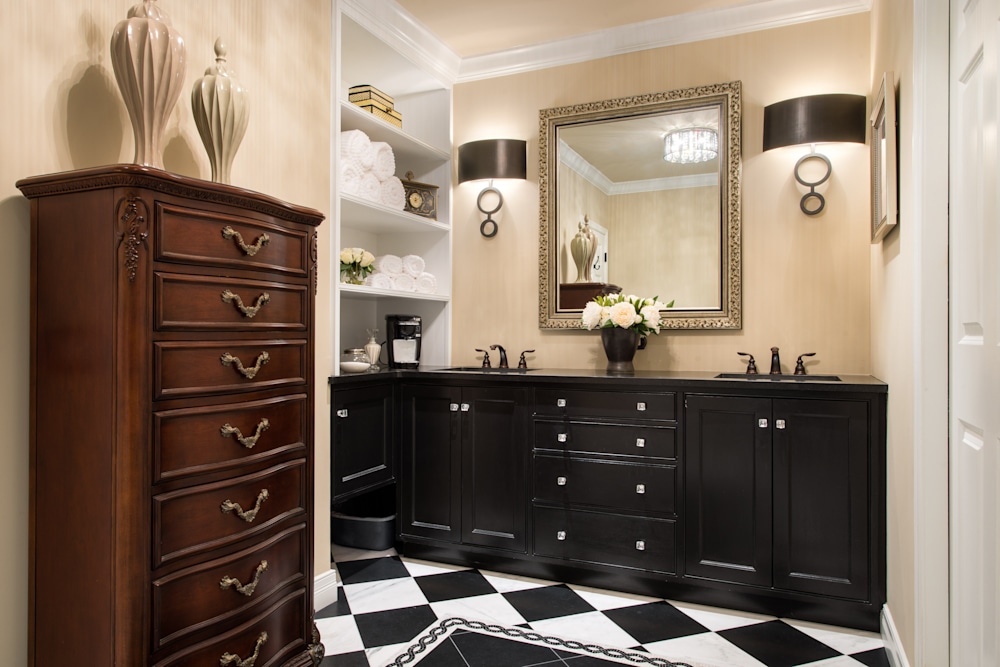 Black Walls
You might have been advised to stay away from black walls because they make a room feel smaller. And the truth is, it can – when it's not used correctly. If you've got ample natural light in a room and contrast from light and white objects, black walls can feel balanced while providing a sophisticated, modern feel.
Use Black to Make a Statement
If you don't opt for black walls, you can still make a bold statement by using black furniture and fixtures. If you like the industrial look, consider working black metal light fixtures and picture frames to the room. For an upscale sense of space, you can't go wrong with black leather furniture. Another way to use black effectively is to outfit your windows with black or dark drapes. This won't just provide a sense of contrast, they can block out bright streetlights in the evening.
Contrast Black with Pops of Color
A black and white design scheme can give your home a strong sense of contrast, but there's another way to contrast the black and break up the starkness that can come with a black and white color scheme: pops of color. Choose a bright color, like yellow or blue, and work it into your design scheme to draw guests' eyes to specific areas you want to highlight. For example, a bright throw pillow on a black couch is an inviting break against the black fabric that invites guests to sit and relax. A bright picture frame on a black wall highlights the art it contains, making it pop even more against the dark wall.
Play with Texture with Black Patterns
If solid black seems too overpowering for you, or even too boring, consider using primarily black patterns in your design. On your walls, you can use wallpaper or stencils to create your desired, black-based look. With furniture, look for upholstery in patterns that provide rich texture to the spaces they occupy.
Work with an Experienced Philadelphia Interior Designer
Get more ideas about how to work black into your design scheme when you speak with an experienced interior designer in Philadelphia. To get started, contact Susan Hopkins Interior Design, LLC today to schedule your initial consultation with us. During your consultation, we'll go over your ideas, your budget, and your space to create the perfect interior design plan for your home.